Exclusive: Anil Kapoor upacks The Night Manager his sci-fi dreams and more
Exclusive: Anil Kapoor upacks The Night Manager, his sci-fi dreams and more
by

Filmfare

| March 14, 2023, 17:12 IST
News
Follow on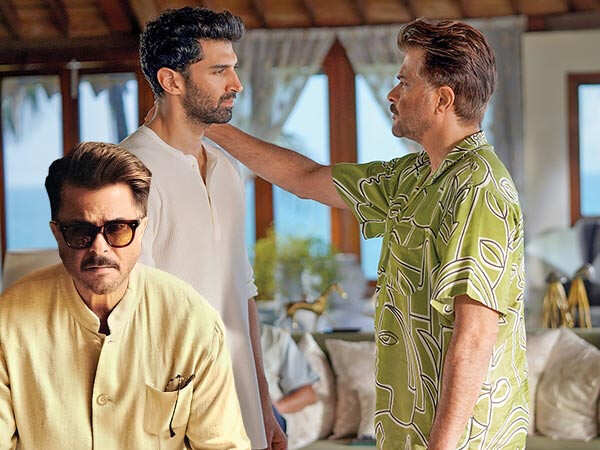 What is the key to not only becoming a Bollywood success story but also maintaining that success for decades? If you ask Anil Kapoor, the answer is surprisingly easy – you keep learning from even more successful people. In the past few years, the star has experimented with a slew of wildly different films ranging from the audacious meta-film AK Vs AK, where he played himself, Thar in which he played a hardboiled cop and collaborated with his son Harsh Varrdhan Kapoor to the star-studded family drama JugJugg Jeeyo, where he played a man undergoing mid-life crisis. Adding to his busy catalogue, he recently made his OTT series debut with The Night Manager. The series which reunites him with his Malang co-star Aditya Roy Kapur, is the Indian adaptation of the eponomously titled British series starring Tom Hiddleston and Hugh Laurie.
As he muses on trusting his "gut" and what it takes to play the bad guy, Anil Kapoor opens up about what makes him tick even after decades of facing the arclights.
You have a filmography full of iconic roles. Where would say The Night Manager fits in the larger context?
Well, I guess we'll have to wait and watch. But I think it will be one of the top roles on my list. I've been fortunate that I have gotten the opportunity to team up with so many filmmakers, writers and co-actors. I think this will be one of the good characters. It will definitely be among the ones I will remember fondly.
How easy or hard is it to play out a book-to-screen adaptation?
Sometimes what happens is there is a character which is just created on paper for the first time like when I did Mashaal or Lamhe. When they were written there was no reference point and there was no adaptation. These were all original films. Even a film like Tezaab or Ram Lakhan. In Slumdog Millionaire I played a character from a book written by Swarup Ji. Sometimes it becomes more challenging because there's bound to be some comparison when you are adapting it from a show or a book. The challenge is how do you forget the original and make it your own?


You've worked on Indian adaptations before…
Like when I did 24, I had to play Jack Bauer's role. That role is iconic. He is considered the James Bond of television. Now when you indianise it to Jai Singh Rathod, how do you root it in this culture and this political situation? That's the challenge. That is what I tried to do with Roper (played by Hugh Laurie) also. The Indianised version, Shailendra Rungta, was born in Mumbai and raised under the Byculla bridge. He then rose up to fame and power and became more and more ambitious. And then he thinks that he can make more money by being an arms dealer. He becomes more and more power-hungry. But he believes in it and does it with total conviction. He's smart, intelligent and witty. Eventually, you start to feel for him. But then you see that ultimately he is going to be doomed. It's like a chess game. He starts playing his moves and wants to be ahead till he ultimately loses because there is no way he can win. Then he keeps going for counter moves, doesn't trust people and becomes cornered and isolated. It's so exciting.
Was there any pressure going into the show since it's a popular series?
The international producers who made the original were always involved so somewhere the pressure was taken off of us because whatever we did was vetted by them. They have seen it and the feedback they have given is fantastic.
When you're playing a negative character, what's the key to empathising with a bad guy without perhaps justifying his actions?
That's such an interesting question. That becomes a challenge. The way you do it is that you first humanise the character. You say that he's convinced in what he is doing. He has his mannerisms that make him as real as possible. Rungta is a family man. He's loyal and there are some great qualities that he has as a human. You do it in a fashion which automatically makes him real. He might be the worst person but there are also some great qualities that he has. So you balance it. The writing makes so much of a difference. We had so much material since it's adapted from a book. So things became challenging as well as exciting in a way.


Aditya Roy Kapur is also making his OTT series debut with you. So do you recall anything you've learnt from him?
When I was doing Malang with him, I was like how did you get these six-pack abs? How do you maintain this physique and what do you eat yaar? Then he introduced me to this company that helps you with measured calories. I also learnt to be consistent with having the same boring food day by day.
Speaking of younger actors, do you find yourself giving any acting advice to your children Harsh Varrdhan and Sonam?
I don't give advice, I take advice. Why would I give advice? It's better to take advice from them- absorb and learn. Like how can I improve myself? How can I become more contemporary so that the present generation can also relate to me? The day you start giving advice means your time is up. So take advice from all these kids and all these young actors.
Apart from the anti-ageing potion you have, what's the key to your continued success?
(Laughs) I don't have an anti-ageing potion. I wish I did. I want it yaar. There are far more successful people and far more talented people than I am. So I keep on trying to take cues on how they have maintained their success.
You will always find people who are more talented and successful than you. You must learn from them rather than believe that, "you're very successful and you're talented". You keep on finding superior people than you. And that has been my success mantra all this while. That I have been constantly learning and meeting people who are more intelligent and successful than I am.
At this point in your career, what's the one thing you look for in a role before saying yes to a script?
I go with my gut when I'm reading a script. I think if something in my gut says go for it – I do it. I just go with my instincts. That is what I have done in my entire career. I just don't really intellectualise, I don't analyse it, I just go with my emotions and my gut.


We're curious to know about your next Hollywood project…
I have a small guest appearance in this new show with Jeremy Renner. He's the lead actor in this show called Rennervations. I am there in one of the episodes and I play myself. I'm not sure which episode I'm in but I'm in one of the four episodes.
There was talk about a Ram Lakhan remake. What are your thoughts on revisiting an iconic character that you have played?
I don't know if it is a Ram Lakhan remake. Anees (Bazmee) bhai has spoken to me about it. And I am looking forward to the narration. There are roles I want to revisit but it depends. For example, Harrison Ford at the age of 80 has done Indiana Jones. There are so many characters of mine which I can revisit. But I think the studios and the producers should have the balls to do it, and the intellect. I am a professional actor, so whenever they need me, I am always there.
Do you still think there are things you haven't experimented with as an actor?
I am looking forward to exploring the science fiction genre. I have not yet done anything in that zone.
Actually, many fans consider Mr. India to be one of the best examples of sci-fi/superhero films in Hindi cinema…
Well, you can say it was a superhero film but sci-fi is something I've never done. Something like Star Wars. There is also a sci-fi show I've been watching recently called Foundation. But yeah, that is something I am looking forward to doing. And I want to do it in a
big way.