Hera Pheri 3: Suniel Shetty shares first update of Paresh Rawal-Akshay Kumars film
Hera Pheri 3: Suniel Shetty shares first update of Paresh Rawal-Akshay Kumar's film
by

Filmfare

| March 1, 2023, 16:12 IST
News
Follow on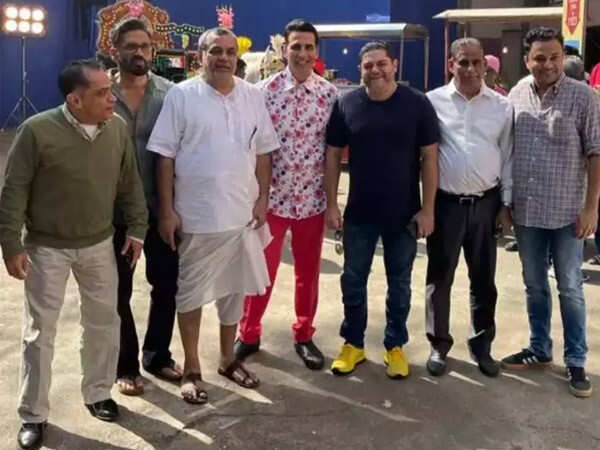 The third instalment of the Hera Pheri franchise will be launched, according to Suniel Shetty, who is eager to collaborate with Paresh Rawal and Akshay Kumar on the film. The news was shared on LinkedIn by the actor who previously portrayed Shyam in the first two movies.
Suniel Shetty wrote, "The following is a list of possible candidates: I'm excited to be back on set with Paresh Rawal and Akshay Kumar. It took some time, as with all good things, but it's a relief to finally have an answer to this question. In the film, Akshay Kumar, Suniel Shetty, and Paresh Rawal will be seen reprising their popular characters, Raju, Shyam, and Baburao, respectively", the statement goes on.
Suniel co-starred alongside Rawal and Kumar in the original Hera Pheri, which was released in 2000 and went on to become a cult comedy. A sequel, "Phir Hera Pheri," was released in 2006, with Shetty, Rawal, and Kumar all reprising their roles as Shyam, Babu Bhaiya, and Raju, respectively.




There has been a third instalment in the works for some time. Due to creative disputes, Akshay announced his departure from the project last year. In his LinkedIn post, Shetty also covered how a movie is produced, distributed, and how the crew makes money. He went into extensive depth about the various revenue streams, such as box office, digital, and satellite rights.
Earlier, pictures of Akshay, Suniel, and Paresh Rawal from the sets were widely shared on social media. The Khiladi actor can be seen in the trending photo wearing the well-known flowery shirt and red bottoms, which is a resemblance to his appearance in "Phir Hera Pheri." According to rumours, the picture was taken during the recording of the third part's introduction video.