Jennifer Aniston and Lisa Kudrow arrive to support Courteney Cox on her Walk Of Fame honour
Jennifer Aniston and Lisa Kudrow arrive to support Courteney Cox on her Walk Of Fame honour
by

Filmfare

| February 28, 2023, 14:44 IST
News
Follow on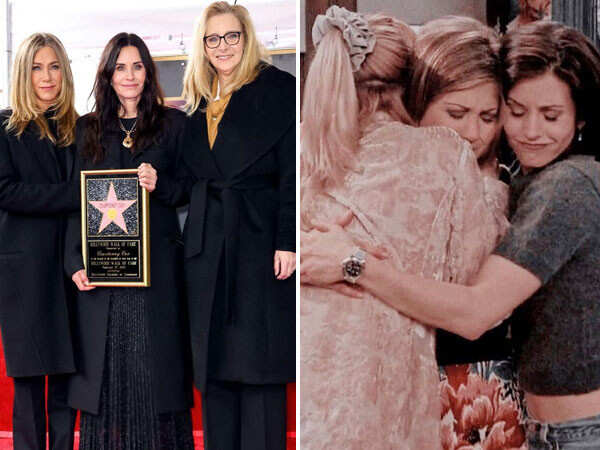 A sitcom such as FRIENDS can never leave your memory, to begin with. The beloved show that aired from 1994 – 2004 saw an ensemble cast rise to fame and not only were they thick friends onscreen, but they also maintained the same relationship long after the show wrapped up.
Jennifer Aniston, Lisa Kudrow and Courteney Cox who played the roles of Rachel Green, Phoebe Buffay and Monica Geller respectively have been best friends forever now. In the age of social media, they all have shared multiple glimpses of them hanging out and spending time together and the bond clearly shows. Exactly why they were present today as Courteney Cox was honoured on the Walk Of Fame. The actress received her 2750th star and her closest friends were there to cheer her on as they did in their joint speech.




They were extremely kind and emotional as they mentioned how Courteney has been their friend for about 30 years now and she's family. They were all praises for how warm and inclusive she has always been. They even went on to say how Courteney needs to be thanked for the FRIENDS cast being so close to each other.


Courteney too had only nice things to say about her FRIENDS' family. She shared how the show has taught her the importance of close friendships and how to stick around at all costs. The fact that they all just wanted to make a great show and there was no hint of jealousy is what makes this experience one of a kind.