â90s heroines who impressed with their OTT debut
'90s heroines who impressed with their OTT debut
by

Filmfare

| February 27, 2023, 15:56 IST
News
Follow on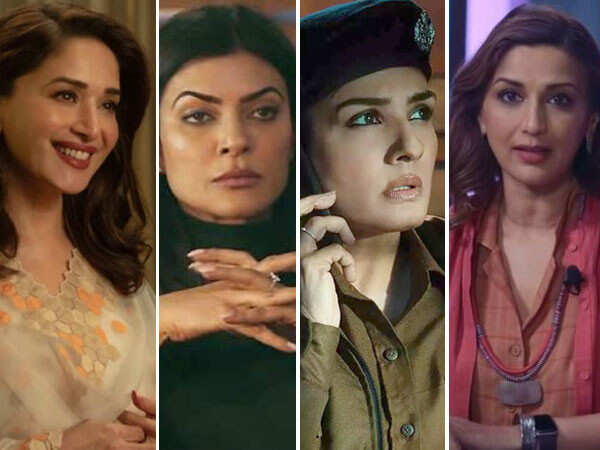 In recent years, there haven't been many theatrical releases, thus the emphasis has shifted to OTT platforms, and we had good cause to expect this. The OTTs not only introduced us to some fresh new talent, but they also sparked the comeback careers of some of the most well-known performers from the 1990s. In addition to providing us with compelling and compelling narratives, the Bollywood queens of the 1990s gave us some unique roles.
A new space is being created for actors like Madhuri Dixit, Raveena Tandon, Kajol, Karisma Kapoor, and others by taking on meatier roles. The public enjoys watching their favourite performers succeed, whether it's in Fame Game for Madhuri Dixit, Aarya for Sushmita, or Aranyak for Raveena. Here are some popular actors that have made a strong comeback on OTT platforms:
Sushmita Sen
Sushmita Sen gives us her best performance to date in the criminal thriller Aarya, which centres solely on the lead actress. The drama, which is set in Rajasthan, makes a rare appeal to compassion in a crime series. You follow Sushmita Sen as she moves through the show, feeling her doubts and questions as she does. The series continued for a second season, and both have been enormous successes.
Madhuri Dixit
Madhuri Dixit has been a frequent figure in the reality TV judging scene for many years, but it has been a while since she appeared in a film or on her own show. She came back strong with "Fame Game." Her delicacy left everyone in a state of utter astonishment. She recently followed it up with another "Maja Ma." Each of these initiatives was well suited to and complemented her personality.
Raveena Tandon
The cinema industry was in awe of Raveena Tandon's performance in "Aranyak" when she returned with a bang. One of the best performances by Raveena Tandon to date. Her journey through political ploys, personal goals, and myths—which begin with an unintentional but enigmatic murder—is depicted in the show as a policewoman. You're on the edge of your seat the entire time thanks to her sombre and tense performance.
Sonali Bendre
Sonali Bendre rose to prominence in the world of reality TV show judging after leaving the film industry but was forced to leave it all behind after receiving a cancer diagnosis. After receiving treatment in the US, she returned after a few years victorious. With the premiere of The Broken News, she has made her return to the spotlight. She received a lot of praise for her work and did a good job of highlighting the realities of modern news reporting.

Juhi Chawla
The actress made a comeback with the OTT release of Hush Hush after a long hiatus. The Hollywood smash "Big Little Lies" served as inspiration for the show. Chawla portrays a strong female protagonist, and the story's progression depends heavily on her.
Ayesha Jhulka
Ayesha Jhulka returned to television with the OTT series Hush Hush. One of the major characters in the series, she gave her best acting performance as one of the important roles. She has spoken out in multiple interviews about how OTT is changing how stories are presented, and she has expressed her excitement to be working on many more shows and movies in this new digital era.
Pooja Bhatt
All-around beloved actress Pooja Bhatt delighted fans when she returned with Bombay Begums. She had the challenging role of portraying a complicated character who was preoccupied with her duties as the CEO of a bank and to her family. The show focused on women and offered a number of likeable female characters. All of Bhatt's followers were in awe of the dexterity with which she portrayed the role. She most recently appeared in the movie "Chup."

Karisma Kapoor
The first prominent actor from the 1990s generation to star in her own web series was Karisma Kapoor. She made an appearance in Mentalhood. Everyone adored the show, and they were ecstatic to see that Karisma Kapoor still embodied the innocence that she did so wonderfully in the 1990s.