Bollywood Actresses Who Have Essayed The Role Of Cops In Their Films
Bollywood Actresses Who Have Essayed The Role Of Cops In Their Films
by

Rupsha Sen

| February 23, 2023, 18:18 IST
News
Follow on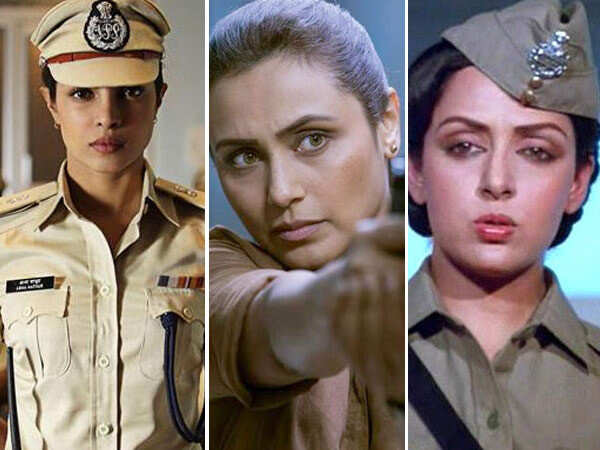 Men predominate in the Bollywood cop realm, with a few women showing up sometimes. Over the years, prominent actors in Hindi movies have cultivated their tough-guy personas by playing police officers. The male cops in Hindi cinema, whether portrayed by Amitabh Bachchan in Zanjeer or Ajay Devgn in the Singham series, are angry, skilled, and always prepared for action. So how do women who wear uniforms fit into this?
For a very long time, only the film industry's alpha males portrayed the roles of upright police officers delivering justice to the wronged. Several leading females are emerging to play these roles just as successfully, demonstrating that not only men but also women can be equally strong and resilient to play such difficult roles. Even though female performers have frequently played police officers in movies and television shows and have done an excellent job at it, we still imagine a male police officer. In time, the Hindi film industry started to produce movies with female cops who had achieved some level of notoriety. Although other characters emphasise the altruistic aspect of police, others portray strong, independent female officers. Look at the best female actresses who made an impression on the audience as police officers.

Hema Malini in Andha Kanoon


Two things make the movie Andha Kanoon by director Tatineni Rama Rao famous: the title song and the precious Amitabh Bachchan-Rajinikanth chemistry. But Hema Mailini's portrayal of a cop in the movie was a novelty. She was able to portray her persona accurately by exuding assurance and aura. Despite the presence of Big B and Rajinikanth, Malini still managed to stand out.

Rani Mukerji in Mardaani

The action-thriller movie Mardaani was made by Aditya Chopra and directed by Pradeep Sarkar. Jisshu Sengupta, Tahir Raj Bhasin, and Saanand Verma play supporting roles alongside Rani Mukerji in the movie. Shivani Shivaji Roy is a police officer who stumbles onto riddles of human trafficking committed by the Indian mafia while looking into the kidnapping of a teenage girl. Rani Mukerji defied all expectations with her fearless performance in Pradeep Sarkar's Mardaani. The use of brutal fight sequences by a female character caught the audience off guard as well.

Tabu in Drishyam

Drishyam is a 2015 thriller and it was directed by Nishikant Kamat. The movie is an adaptation of the 2013 Malayalam film of the same name. In Drishyam, Tabu presented Bollywood's most lifelike portrayal of a female police officer. She was complimented for playing her character and conveying emotion through her expressions and body language despite entering the scene mid-scene. Tabu's portrayal of a female police officer was the most intense. Despite coming into the scene after the intermission, she was praised for playing her character subtly and conveying emotion through her gestures and body language. As actress Asha Sarath, who performed the same part in the original Malayalam film, was well-liked, Tabu had her work cut out for her.

Sushmita Sen in Samay

Sushmita Sen and Sushant Singh feature in the action-thriller movie Samay: When Time Strikes from 2003. The plot is inspired by the Hollywood blockbuster Se7en. Malvika Chauhan, an ACP played by Sushmita Sen, is a widow with a 10-year-old daughter. Because the murderer left no proof, she is forced to handle the case of a reputable businessman who was murdered. You'll be left in suspense till the very end of the film. Sen most likely wouldn't have been able to portray Malvika Chauhan's rough persona any better than anyone else. Sushmita performed admirably in the part, maintaining her stern cop persona while displaying her maternal softness.

Neha Dhupia in A Thursday

The recently released crime thriller A Thursday features actors Yami Gautam, Atul Kulkarni, Neha Dhupia and Karanvir Sharma among others in prominent roles. The film follows the story of a play school teacher (Yami Gautam) who takes her students hostage and demands to meet the Prime Minister. Actor Neha Dhupia plays the role of a tough cop in the film who attempts to foil the kidnapper's mission. Dhupia was actually 8 months pregnant with her second child while filming A Thursday. But instead of casting another actor, her pregnancy was weaved into her role, making this a pathbreaking film to feature a heavily pregnant cop working full time.

Priyanka Chopra in Jai Gangaajal


The Quantico actress has consistently dazzled her audience with her portrayal of tough & fierce women's power, beginning with Don with Shahrukh Khan to Gunday and Jai Gangajal. In the 2006 movie Don, Priyanka is on a quest to apprehend the most wanted person; in the 2013 film Gunday, she goes undercover and plays the love interest of Arjun Kapoor and Ranveer Singh, who the police have been after for a while. Priyanka Chopra plays a senior inspector in Jai Gangajal. As the cop begins her job, she realises that the system is crooked from the top down and that she must struggle against all odds to bring individuals who have been harmed to justice. A sequel to the 2003 movie Gangaajal, which was again directed by Prakash Jha, was released in 2016 with the title Jai Gangaajal.

Adah Sharma in Commando

In the Commando trilogy, Adah Sharma earned as many hearts as Vidyut Jamwal with his high-octane action scenes as police officer Bhavna Priya. In addition, very few people are aware that Adah has training in the traditional Kerala martial art of Kalaripayattu, which greatly aided her when filming the movie's battle scene.

Preity Zinta in Sangharsh

Sangharsh is the tale of a CBI agent played by Preity Zinta who accepts a challenging but crucial mission to find a psychopath killer who has escaped from custody and who kills young children as part of a religious rite. Only one person—Akshay Kumar—can assist her in finding the murderer, and that person is inside the prison. He has an amazing memory and is a genius. He warms Preity and promises to aid her, but only she will receive his assistance; the police, who are also looking for the murderer, will be excluded. The rest of the story showcases how the rookie and the genius are able to track down the murderer and save a child just in time.
The characters have been developed in a distinctive way without using stereotypes, and they are portrayed as women from various backgrounds. Such characters become considerably more credible when they are shown as more human and as people outside of their line of work. With such powerful and compelling depictions, we expect to see more female actors playing police officers in the ensuing years across a variety of media.