Ranbir Kapoor and Shraddha Kapoor engage in playful banter in new song from Tu Jhoothi Main Makkaar
Ranbir Kapoor and Shraddha Kapoor engage in playful banter in new song from Tu Jhoothi Main Makkaar
by

Filmfare

| February 21, 2023, 18:45 IST
News
Follow on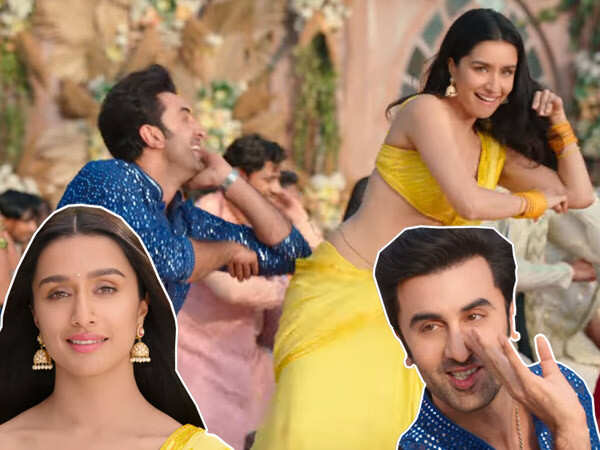 For the newest song from Luv Ranjan's Tu Jhoothi Main Makkaar, Ranbir Kapoor is back on the dance floor, this time with a lovely Shraddha Kapoor. The upbeat dance song, Show Me The Thumka, which was released on Tuesday, features both actors dressed in a desi avatar and competing with one another in a large open courtyard of a home.
Following Tere Pyaar Mein and Pyaar Hota Kayi Baar Hai, Ranbir returns to his romantic hero persona in the third song of the album. He dons a sparkling blue kurta and displays his impeccable desi movements on the dance floor. Meanwhile, Shraddha is challenging Ranbir while looking stunning in a yellow sari. In their first appearance together on screen, Ranbir and Shraddha dance brightly and creatively to Ganesh Acharya's choreography.

The catchy song, written by Amitabh Bhattacharya and composed by Pritam, was sung by Sunidhi Chauhan and Shashwat Singh. In the song, Show Me The Thumka, which is set at a wedding, Ranbir and Shraddha engage in playful banter.
In Tu Jhoothi Main Makkaar, Ranbir will appear opposite Shraddha Kapoor for the first time. The release date is March 8, 2023. Ranbir's most recent appearance was in the 2022 box office juggernaut Brahmastra, directed by Ayan Mukerji. Shraddha, on the other hand, had a special appearance in Varun Dhawan's Bhediya recently.