Watch: Fans canât get enough of BTS dancing to Jhoome Jo Pathaan in this new viral video
Watch: Fans can't get enough of BTS dancing to Jhoome Jo Pathaan in this new viral video
by

Filmfare

| February 20, 2023, 12:51 IST
News
Follow on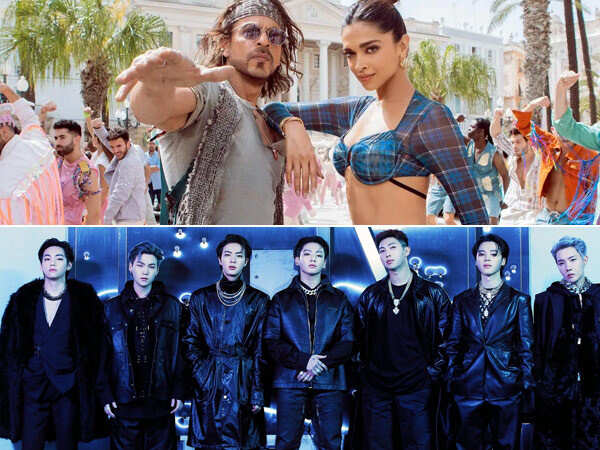 With their pop songs, the South Korean boy band BTS has been breaking boundaries all around the world. More than anyone could have ever expected, the band has developed a massive fanbase. While BTS fans, known as the ARMY, are completely enamoured with their music and never miss an opportunity to jam out to the tunes, a few edited videos of the boy band have also made them long for a crossover. Speaking of which, a few videos of the band singing on well-known Bollywood tunes have recently gone viral. The members' dancing moves appear to be in sync with the music, whether it be the hit number Zingaat or the well-known song Chunari Chunari.




Another fan-made video that has recently gone viral features the band whose dance was flawlessly timed to the song Jhoome Jo Pathaan by Shah Rukh Khan and Deepika Padukone. The video, which was posted on Instagram and quickly went viral, impressed all of the BTS followers.
View this post on Instagram
The Instagram user also included the following caption: "Their choreographies are so satisfying to watch. Synchronisation." Many viewers who responded to the video applauded the edit, the song, and the dancers' perfect synchronicity.




The video was recently shared and has already received tens of thousands of views and likes. Fans of SRK and BTS have left many positive comments in the comments area.