Cover Story: Shehzada is my first all-out action entertainer says Kartik Aaryan
Cover Story: Shehzada is my first all-out action entertainer, says Kartik Aaryan

| February 16, 2023, 16:55 IST
News
Follow on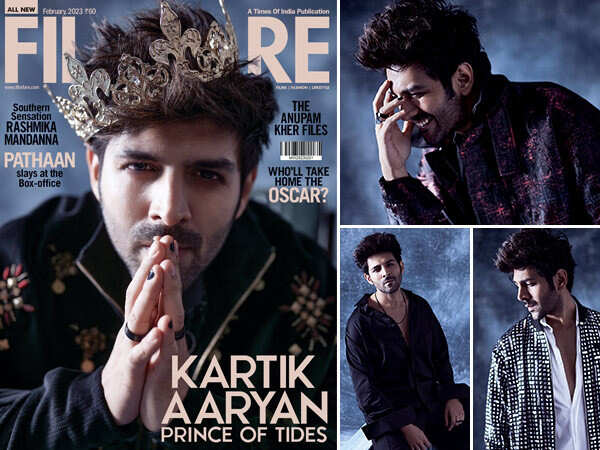 Kartik Aaryan doesn't take himself too seriously. He's like one of the children visiting Willy Wonka's Chocolate Factory – he doesn't care why he has got the golden ticket and can't decide on which goodies to munch first. He doesn't want the illusion to end, despite knowing that it's an illusion. What's more, he's invited us all into his private world to enjoy it with him and the magic circle is ever expanding. We've met a dozen times and I still can't get enough of his toothy grin. Somehow, whatever mood I'm in, he's always elevated it by his mere presence. You can't help but smile back at him. He doesn't have any starry airs despite giving numerous hits back to back. He's a true hero of the masses. Someone who can be truly called the 'family pack hero'. The entire family likes him for their own reasons. Everybody loves him, and just like Raymond he doesn't know why but he's glad all the same. By his own admission, he doesn't want to limit himself to just one genre. Films like Dhamaka, where he played an investigative journalist who has no qualms bending rules or Freddy, where he plays a dentist-turned serial killer, are proof of that. In Bhool Bhulaiyaa 2, he successfully segued into the Akshay Kumar territory and emerged triumphed. Rumour has it that he's already been offered Hera Pheri 3. Clearly, his star is shining bright right now and blazing high in the sky. He's in a happy space for sure and shares in the warm vibes in our engagement. Excerpts:
You've been playing against type in quite a few films like Dhamaka, Freddy, Shehzada, etc. What went into the decision to experiment?
As an actor, experimenting with every film is my goal and intention. That's the best part about being an actor: getting diverse scripts and doing diverse roles. Hence, whether it is as serious as Dhamaka, as eccentric as Freddy, or as fun and action-oriented as Shehzada, every role is different. And that's the beauty of it. I love the fact that filmmakers are seeing me in a different light. When they come up to me with something interesting and quirky, there is no chance I can say no. I accept the challenge and give it my all in order to succeed. I want to create a legacy with my own films. You could name any genre of film and you would find it in my repertoire.
Shehzada is based on the Telugu film Ala Vaikuntha-purramuloo, have you seen the original? Or did you stay away so as not to be influenced by Allu Arjun?
Yes, I have seen the film and liked it. It has everything a commercial mass entertainer should have. But Rohit (Dhawan) has taken the idea from the original and reworked it in his own way. He has added his own ideas and elements and given a whole new spin to the film. And that's the reason Shehzada will have its own identity. When I read the script, I was super excited to do the film.
South remakes are guaranteed money makers…Do you agree?
See, what I have learnt from my experiences is that there is no written formula or fixed recipe for success. In fact, once you buy remake rights or decide to make a sequel to a successful film, you have an added responsibility to surpass the original. You have to work extra hard to make sure that you are able to make the audience happy.
Filmmakers and stars are looking at pan-Indian films these days. What are your thoughts on it?
It's good that today we have the concept of pan-India being recognised. The Indian film industry is vast, and there is so much content and so many talented and skilled people in it. Ten years ago, watching a South film in Mumbai was not easy. Only selected cinemas had subtitles, and there were very few shows. But today, everything is coming under one umbrella, and it's obviously good news for the entire Indian cinema. It amounts to more viewers for the artistes and more content in the pool to entertain the audience.
We hear you've become a producer with Shehzada. What prompted this?
(Laughs) I became a producer on Shehzada by accident. There was a troublesome situation while we were making this film, and I stepped in to do my bit to sort it out. I don't want to get into more details, but that's when the producers of Shehzada, Bhushan (Kumar) ji, Allu Arvind Sir, and Aman (Gill), who have made this film, came forward and honoured me with the title of producer. Yes, at some point in my life, I had planned to get into this space but it happened a little early and suddenly. But I have no complaints. I'm happy and fortunate to have such big names on the producers' list along with my name. I'm looking forward to going on this exciting ride.
What's your process for preparing for an action role?
A lot of planning… and I mean a lot of planning. Shehzada is my first all-out action entertainer. I had to make sure that I left no stone unturned, and Rohit (Dhawan) had such amazing action sequences and moments that I was sure from day one that khoon pasina ek karna hai. There were many training sessions before shooting the action scenes and it was intense and fun at the same time to prepare and shoot for them. I had a blast.
While preparing for Shehzada, did something surprise you about yourself, something for which no one had prepared you?
I guess the action part surprised me about myself. I had never ventured into such hardcore action before, so the whole process of training and later performing it was a one-of-a-kind experience. By the end of the shoot, I was quite surprised. After all the action moments were shot, I remember asking Rohit, "Are you sure we are done with this…or should we have another fight sequence?" I guess the Bollywood hero in me loved the action-hero bit.
You've had films perform at the box office at a time when not many films worked. How validating was that?
It's a fantastic feeling, of course. A successful film at the box office benefits the entire team and Bhool Bhulaiyaa 2's success put me on cloud nine. The film brought the audience back to the cinema, and that was a surreal feeling. The industry as a whole was celebrating our success; people were watching the film more than once in theatres, and I was being showered with terms like "Savior of Bollywood". All of that felt so great as an actor. I don't think "validation" is the right term, but it was a proud moment for all of us in the team to have won the audience's hearts and lifted up the mood in the industry when things looked dull.
Out of your last seven films, six of them (SKTKS, Luka Chuppi, PPAW, Dhamaka, BB2, Freddy) have been successful. Do you feel the pressure of delivering hits now?
The pressure is to do good work. I want to keep entertaining audiences and surprising my fans with something new and that's my goal. So I just want to keep doing better and better work so that it keeps everyone happy, the masses and the producers. So this pressure is good. It motivates me to keep pushing myself and doing good work.
Are there high expectations on you now? Does that put pressure on you?
As I said, this kind of pressure motivates me to do good work. I have my blinkers on and the aim is good content and delivering my best performances each time… and for that, I am doing everything I can.
What's your equation with Luv Ranjan? Will we see you teaming up with him again?
Luv sir is like a big brother and family to me. We have always been there for each other, and we will always look out for each other. I believe Luv sir will call me whenever he has a script for me. He knows that it will always be a yes from me.
Luv Ranjan's movies put you on the Bollywood map. What kind of roles would you want to explore with the director, if at all?
Anything. I trust him, he trusts me, and that's the bond a director-actor should have. What he will do for me is the type of role I will play for him. He is a brilliant writer who knows how to read the pulse of the audience. I would be happy to work with him anytime, whatever the role may be.
We've been hearing good things about SatyaPrem Ki Katha… Tell us something about it…
I wish I could speak more about it but I can't. Right now, all I can say is that Satyaprem Ki Katha is going to surprise everyone and move your hearts. Fingers crossed.
We hear you were paid a whopping amount for 10 days of work in Dhamaka…
(Laughs) There are so many more special things to talk about with Dhamaka than my fees. I got my first Best Actor nomination at the Filmfare OTT Awards for Dhamaka. I got to work with Ram (Madhvani) sir and completed the film in a record-breaking time, that also during the pandemic. It was my first intense thriller. These are the things to discuss and remember. Paise ka kya hai, vo to ghatata-badhta rehta hai (money comes and goes).
Raveena Tandon recently picked you as her favourite superstar… You think this is an indication that you've become an insider now?
That was so sweet of her. I even personally thanked her. These are the superstars who made us fall in love with movies, and today, getting such compliments from them is a big thing for me. I'm not sure how or when someone is perceived to be an "insider," or what the criteria are for an outsider to become an insider. But I can just say that I am very proud to be a part of the Indian film industry.
You recently spotted your hoarding in London, and it made news. People thought it was cute that you have retained your wide-eyed innocence…How do you do that?
I come from a small town, Gwalior, and I actually had zero connections to the industry, and today, when I experience such surreal moments, it genuinely leaves me moved. There is no bigger feeling than seeing your accomplishments noticed by fans and the masses, which makes you realise how far you've come. I was so happy to spot my hoarding in London. The child in me, the dreamer in me, had an adrenaline rush, and it was a moment I wouldn't have shied away from sharing with my fans.
What keeps you sane when everyone wants a piece of you right now?
The audience's love. To be honest, I have lived for this moment, where the masses know me and want to see more of me on and off screen. Touchwood, I've gotten ten times what I expected from my fans.The immense love and support that they give to me is so sweet. And that keeps me grounded. Also my family. My family has been supportive of my decisions but at the same time, they have made sure that once I am home, I am their Koki and not any actor or star. So yes, the love from my family and my "other family," called fans, keeps me very much sane.
What's your equation with Karan Johar now? Have you sorted out your issues?
He recently shared the trailer of my upcoming film, Shehzada, which he loved. See, I'm here to work. I don't have personal issues or grudges against anyone in the industry. My focus is only my work.
You are being seen as a replacement for Akshay Kumar. Your thoughts on it…
No one can take Akshay Kumar's place. Period. I am just doing films and franchises that producers are offering me, where the stories are different and I am playing a new character. So there is never a question of replacement. Akshay Sir has always been an inspiration to me. He is a legend. He has ruled for decades and will continue to rule for decades to come; no one can even imagine replacing him.
What's your thought on the "commercial superstar" tag that you've got?
It feels fantastic… and it's a huge accomplishment for an actor who started with no industry contacts and knew no one in Mumbai. And now to have that tag means that the industry is now looking up to you. I consider these tags like medals given by the people who love you because of what you do. Having said that, I also believe that at the end of the day, your work is what will keep you ahead. So the tag can be anything; one can attach "commercial" or any other term before or after "superstar." But the bottom line remains: one has to keep working, keep doing better, and keep entertaining the audience.
From Sara Ali Khan to Ananya Pandey, your name has been linked with all of them…You're quite the ladies' man, aren't you?
The audience and netizens have always kind of loved my chemistry with my co-stars, whether it is in a film or at events; I guess the masses have loved my pair-ups at the movies. It's like a bonus from fans—an extra dose of love for your pairings. It's like passing with distinction for an actor if the masses give you full marks on your chemistry exams. Feels good.
The nation wants to know who Kartik Aaryan is dating.
(Laughs) I am single. Right now, I'm committed to my films only. I don't have time for dating. If you look at my calendar, every day I am either shooting, promoting, or working for a brand. There is no luxury for a break. But I've no complaints. I'm feeling blessed and fortunate to be pursuing and living my dreams.
How do you look back on your journey?
I look back with gratitude. The journey has been a tough one. Auditions, running around in trains, getting rejected multiple times. But the good part is that I made my debut on my own. After that, I struggled even more to make sure I became a household name. That only happened after the success of my Sonu Ke Titu Ki Sweety. And then movies happened. But things also got difficult in between… But my focus was always work. And I didn't pay attention to anything else. I still have a long way to go from where I am now. But I look back with gratitude and love.
You've done a bit of everything on screen. What do your aspirations look like at the moment?
I feel like my journey has just started. My aspiration is to do more work… I aspire to earn the No. 1 spot. One has to excel in their work no matter what the job is. It could be a 9-to-5 job, and one still should do an excellent job to feel better and move ahead. My aim is the same; I want to get to the No. 1 spot, and right now I am working hard for it. Fingers crossed, it will happen soon.