Ali Fazal shares pic with Tom Cruise from the Oscars nominees luncheon
Ali Fazal shares pic with Tom Cruise from the Oscars nominees luncheon
by

Filmfare

| February 15, 2023, 11:15 IST
News
Follow on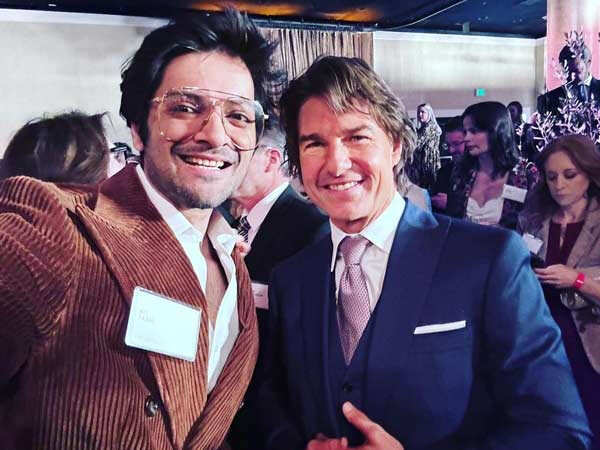 Ali Fazal, producer and director Shaunak Sen of the Oscar-nominated documentary All that Breathes and Guneet Monga, producer of The Elephant Whisperers attended the Academy Nominee Luncheon in Los Angeles on Tuesday.
From the event, the actor posted a picture of himself with Tom Cruise. Taking to Instagram, Ali Fazal shared numerous photos of himself, Guneet Monga and Shaunak Sen with Tom Cruise.
View this post on Instagram
He captioned the post, "Surreal moments from the ACADEMY LUNCHEON TODAY!!! With the real OG, @tomcruise who was the kindest soul in a room filled with talent today. Left me with the advice I will cherish for a lifetime. 2nd picture is OUR PROUDEST MOMENT – the TWO FROM INDIA with him – THE CHAMPIONS OF THE DAY/yr – #AllThatBreathes and #theelephantwhisperers @shaunak_sen & @guneetmonga killing it. 3- 3rd pic is shaunak in SERIOUS discussion with Mr Cruise."


The first picture shows the actor dressed in a brown formal with Tom Cruise while the second photo is a group picture with Guneet Monga, Shaunak Sen and Tom Cruise.
Yesterday, Guneet, whose documentary The Elephant Whisperers is also nominated for the Oscars also shared a variety of pictures with filmmaker Steven Spielberg, Everything Everywhere All at once actor Ke Huy Quan and others. She wrote, "In top company with the mavericks of cinema, everything everywhere all at once."


The Elephant Whisperers is a touching story of an indigenous couple who look after Raghu, an orphaned elephant. The couple's journey is captured in the short film as they strive tirelessly to ensure Raghu's rehabilitation and survival. It emphasises the beauty of the rare fauna as well as the coexistence of humans and animals.
All That Breathes follows two brothers who sacrifice their lives to protect one victim of the volatile times: the bird known as the Black Kite, against the backdrop of Delhi's darkening apocalyptic atmosphere and increasing violence.
See Also: All That Breathes and The Elephant Whisperers nominated for Oscars 2023 in the Documentary category