Celebrate this Valentineâs day with your closest friends and these top friendship movies
Celebrate this Valentine's day with your closest friends and these top friendship movies
by

Rupsha Sen

| February 14, 2023, 15:27 IST
News
Follow on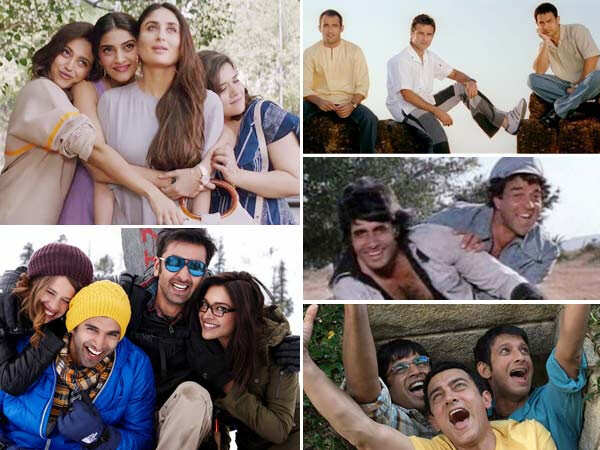 While rom-coms will always hold a special place in our hearts, there's no competition for a movie that honours friendship in all its glory. Everybody's life is impacted by their friends. They are the chosen extended family that is not linked to us. Their affection is equal to that of a lover, whether they are listening to our pointless rants or offering us the best dating advice despite being single themselves. And let's just accept that ending a friendship hurts more than ending a relationship. Our friends are there for us through whatever challenge life throws at us, whether it be helping us come up with pick-up lines for our crushes or comforting us after a painful breakup. When we become ill, they correct us like moms, and when we are depressed, they treat us like lovers. This Valentine's Day, enjoy a movie night with your pals to celebrate their unwavering support and love for you in the absence of a romantic partner.
The yearly onslaught of cards covered in glitter, teddy bears declaring their love, and heart-shaped items is already under way as February 14 approaches. Whether you're single or in a relationship, Valentine's Day may be stressful, even though it's always great to get a surprise bouquet of flowers. Simply celebrating your closest family and friends, people who have experienced both highs and lows with you along the journey, and lifelong friends is a good way to go about it. Here are some Bollywood films on friendship that you may watch with your group in order to show them how much they mean to you.
Dil Chahta Hai
The classic film about friendship Dil Chahta Hai revolutionised the way stories were told at the time. Years ago, Farhan Akhtar offered us Sameer, Sid, and Akash as a quirky, slightly insane, utterly relatable, and authentic representation of friendship. The film was released at a time when romance dominated the genre. In 2001, we weren't used to viewing a narrative like this onscreen, making this movie different from the others. This movie altered storytelling in many ways because of its candid, sympathetic portrayal of friendship and its discussion of adolescence. It still holds a particular place in our hearts today.

Zindagi Na Milegi Dobara
Zindagi Na Milegi Dobara by Zoya Akhtar is the ideal ode to friendship. Three buddies travel together on a road trip as they experience life's highs and lows. In addition to drama, humour, and romance, the star-studded movie "Zindagi Na Milegi Dobara" also features a really dreamy friendship between three friends. The three main protagonists in the movie travel to Spain together, and their time spent travelling aids them in their inner journey and helps them overcome their concerns.
Rock On!!
In Farhan Akhtar's film Rock On, four friends reunite to relive their college years and lifestyles. They genuinely enjoyed themselves while singing about their high points in a rock band. The main theme of the tale is how their relationship endured and grew stronger after a period of uncertainty befell the group. Luke Kenny, Prachi Desai, and Arjun Rampal were also included in Rock On!! 2008 saw the release of the Abhishek Kapoor-directed film Rock On!!
Yeh Jawaani Hai Deewani
When it came to the good, the bad, and the ugly aspects of friendship as Kabir, Aditi, and Avi moved on with their lives after college, Ayan Mukherji's 2013 film Yeh Jawaani Hai Deewani kept it authentic. While Avi continues to pursue his ambition, Kabir departs the nation to pursue his. The distance widens, yet the movie effectively captures the hurt felt by friends and shows that no hurt is greater than one begotten by friendship. However, the protagonists resolve their differences and emerge from it stronger than before.
Rang De Basanti
Rang De Basanti is without a doubt one of the truly legendary Bollywood movies of the twenty-first century. Despite being overtly nationalistic, there was a reason why Rang De Basanti stood out among other movies in the "patriotic" category. The authenticity and realism of Rang De Basanti's characters, and more crucially, the strength of their friendships, were key to the film's success. This group of friends wasn't your typical Bollywood gang, complete with a "hero" and a few identical sidekicks and hangers-on. Each of them has a unique personality and a storyline.
3 Idiots
The movie 3 Idiots, directed by Rajkumar Hirani, is a fantastic representation of the strong bond that develops between three people who meet in college and become unshakable friends. Many young people, especially those who attended engineering college, still strongly relate to it and the ups and downs each character experiences. The movie demonstrated what it means to have your friend's back and how this friendship transcends prejudice and socioeconomic lines. The ideal movie on friendship!
Sholay

In the 1975 film Sholay, directed by Ramesh Sippy, Amitabh Bachchan and Dharmendra played the renowned buddies Jai and Veeru. Even today, the pair's famous equation from the movie is still used to describe a "strong friendship." Despite everything, the two remained loyal to one another.
Chhichhore




Chhichhore, a film of the late actor Sushant Singh Rajput, is an emotional roller coaster that celebrates friendships, loves, conflicts, and priceless memories. The film tells the story of a sad tragedy that compels middle-aged man Anirudh (Sushant) to reminisce about his college years with his buddies, who were mocked as losers. Shraddha Kapoor, Varun Sharma, Tahir Raj Bhasin, Prateik Babbar, Tushar Pandey, Naveen Polishetty, and Saharsh Kumar Shukla are among the other actors who appear in Chhichhore in addition to Sushant.
Veere Di Wedding
This uncommon tale about female friendships was released in 2018. Shashanka Ghosh directed and produced the film "Veere Di Wedding," which also starred Kareena Kapoor Khan, Sonam Kapoor Ahuja, Swara Bhaskar, and Shikha Talsania. The movie wasn't as groundbreaking as "Angry Young Goddesses" or "Sex and the City," but it aimed to challenge conventional notions of love, fulfilment, and individuality. As a result, it sparked a lot of discussion. The idea of a few friends attending a wedding was not original, but it was encouraging to see a big-budget, mainstream Hindi movie genuinely concentrate on the stories of four ladies, their friendship, and their tremendous dedication to one another in the face of all adversity.