Smriti Mundhra: An ode to Love and the magic of Hindi Cinema from the lens of an âœInsider-Outsiderâ
Smriti Mundhra: An ode to Love and the magic of Hindi Cinema from the lens of an "Insider-Outsider"

| February 14, 2023, 16:11 IST
News
Follow on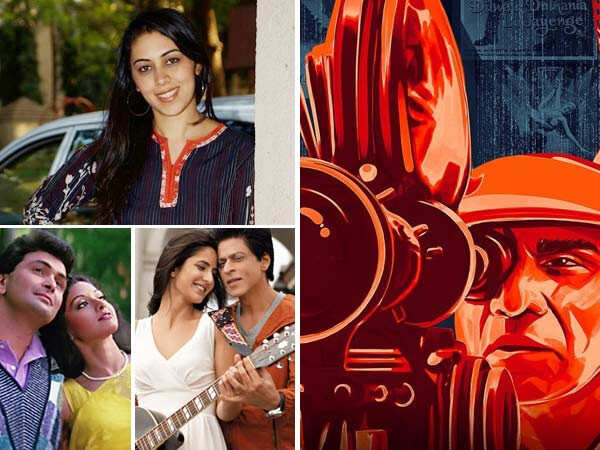 Love – is just a four-letter world filled with a thousand emotions. With time, the definition of that feeling has changed manifold, perspectives have shifted and conversations around it have been influenced by millennial and Gen-Z netizens who have a layered approach to it. Seeing it from a cinematic lens, romance truly soared in the Yash Chopra era for any Hindi cinema lover. To the point where that emotion became synonymous to quintessential movies of the filmmaker such as Silsila, Kabhi Kabhie, Lamhe, Veer Zaara, Chadni, Veer Zaara, and Dil To Pagal Hai that are replete with stunning locations, dreamy landscapes, voguish costumes, and those evergreen tunes. Smriti Mundhra, the Emmy-nominated filmmaker has gained immense success with her stints in shows like Indian Matchmaking and Never Have I Ever that have been pathbreaking for their content and representation of South-Asian talent.
The Indian-American personality is here with her docu-series titled The Romantics where you see glimpses of how she has soaked in the aura and magic of Yash Chopra's romantic films like it's second nature to her. As the show drops on a leading OTT platform today – here's an exclusive chat with the filmmaker who speaks fondly of the magic and mystique that surrounds Hindi Cinema. And how Yash Chopra shall always be the connoisseur of how a big screen canvas has had timeless traces smattered over it with his definition of eternal love.


What do you feel about the term Bollywood?

I would say conflicted. A catchy phrase, so pervasive everywhere. I also cringe a little bit when I hear it. After making these series I try not to lose it a lot but yes, conflicted.
A lot of actors over the years have also expressed their dislike towards that term?

It is the same thing that prompted me to ask that question, you know. I never really thought about that term a lot earlier. But, somewhere I always cringed about it. Why should we be defined by an industry on the other side of the world? We have our industries, probably more robust and prolific. So I think it was that, to not be defined in the context of another industry.


You have used this term for yourself – "Inside-Outsider", people living in the West often don't get the singing and dancing they see in Indian films.

For me, yes I grew up abroad but I am an Indian. My parents love India and I was always surrounded by the things they love. So I grew up watching a lot of Hindi films, also because they wanted me to be connected to my roots. For a lot of us diaspore kids, films are really how we connected to our roots. Even to this day, I have a 3-year-old and an 8-year-old, they are only half Indian but they watch Indian film songs all the time. That's what they watch on YouTube every day. They love these actors and the music and it makes me happy. It is like an entry point. To have an understanding and appreciation of culture is how it started for me too.


So Yash Chopra is a family favourite?

Oh absolutely. Coming and going for 3 generations now. I think he is an eternal favourite. So many films I grew up watching as a teenager abroad came from Yash Chopra. Now revisiting all those films, not only for these series but to watch them with my husband who is not an Indian, with my kids who are new to all of this – you realise how endearing they are and how much staying power they have.


So which is your favourite Yash Chopra film?

It's so difficult but I would say, Chandni.
Sridevi is iconic…

She is but also Yash Chopra presented her through a character who was equal to her talent and in the most beautiful visual style. The outfits and everything, that film is perfection.


How overwhelming was it to talk to stars for your documentary?

It is overwhelming for several reasons. Especially when you have grown up watching SRK's films. The process of making these series has been intense because it is a lot of responsibility. This is one of the most beloved filmmakers in this country. You want to make something equal to his legacy because he is loved by so many people. To sit in front of people and try to ask the right questions and listen to their memories and have them emote. But hopefully, I will leave it to the audience to decide whether I succeeded or not.


Was it always the plan to release it now?

It was a fortunate coincidence which probably made the path easier to answer your question about the "Why now" aspect. I didn't even know it when I pitched the idea of this series. The challenging part of bringing all these stars together was never the desire to do it. There wasn't anyone who I asked and they said no. I guess there's so much love for him that they all wanted to be a part of something that is owed to his legacy. The challenges are always mechanical like scheduling and everything. You are talking to the biggest stars and to have them put in the production schedule was a task. I think we achieved something great.
Getting Aditya Chopra to be on camera is what has made everyone so excited…

It didn't happen immediately. He said great, do the project if you want to. The studio will help you with archival content and everything but I won't be a part of it. I think over time my pitch was if this is going to be a definitive testament to your father's legacy, something will be missing without your and your family's perspective. That is what convinced him. He will probably never do something like this again. It has taken three years to craft this, it would never be complete without his perspective and that has brought him on board.
The relatability factor is very high in your projects, say a Never Have I Ever or Indian Matchmaking – would you say that's the key to connecting with the audience these days?

I think so. Art is always an interesting balance between escapism, relatability, aspiration, and realism and you know there are different ratios and different things on how much you need. People want to see something of themselves reflected on the screen. It can be as simple as an emotional truth. Something that touches them.


How much do you think South Asian talents are influenced by Hindi cinema since you have worked with them?

Majorly. For those who have worked abroad or have been brought up, Hindi cinema has impacted us profoundly. I wouldn't say more so because in India we are obsessed with it but differently, you know. It is very deep and elemental to us because it is the only thing that keeps us connected to our roots. Especially the '70s and '80s – we couldn't just hop onto a plane or there were no social media to say connected. So it is so fundamental for us. Even these South Asian stars you are talking about – Lilly Singh and Maitreyi Ramakrishnan – these younger actors who have the same kind of passion for Hindi cinema as my parents did because we were immigrants travelling from this country to that country. It is a chain that is unbroken.
How would you say romance has evolved on the big screen?

In Yash Chopra's time, there was maybe more belief in eternal love and now maybe we are in a phase where we are either more cynical or practical or there is a different dimension. We have also evolved in terms of gender roles when it comes to love. In Yash Chopra's times, particularly in the '90s – the idea of love was endearing, sometimes even rebellious – against all odds and you know all-consuming. Maybe now we have drifted from it a little bit, maybe we have moved away from it and maybe we will come back too.
"The Romantics" – what an apt name, who came up with it?

Uday Chopra. We were struggling to come up with a title. We knew we did not want the term Bollywood in it. It had to be something that captured what Yash Chopra was known for, the poetry of his films. It had to be catchy and resonate with the Indian audience and also catch the eye of a Non-Indian audience and they figured it out. So I am grateful to him for that.