Top 5 romantic K-dramas to watch this Valentineâs Day
Top 5 romantic K-dramas to watch this Valentine's Day

| February 14, 2023, 9:46 IST
News
Follow on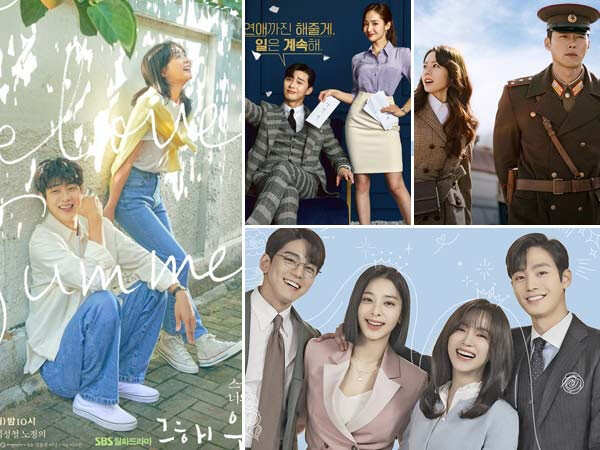 Who doesn't love a cliched rom-com that can make you swoon with its sweet gestures, amazing chemistry, and brilliant storylines? If you are someone who is celebrating Valentine's Day in the comfort of your home or are single and want to feel loved, we have made a list of cute romantic K-dramas that will make your Valentine's Day:
Business Proposal




Business Proposal follows Ha-ri (Kim Se-jeong), an employee of a food production company who shows up to scare away her friend's suitor on a blind date, only to receive a proposal from the company's CEO, Kang Tae-moo (Ahn Hyo-seop).
The show has the right blend of romance and humour with a great cast and storyline. This drama is ideal for days when you simply want to unwind but lack the emotional capacity to manage heavy emotions and insane narrative twists.
What's Wrong With Secretary Kim?




The 2018 hit show would be another office-based romcom. What's Wrong With Secretary Kim?, starring Park Min-young and Park Seo-joon, follows the narcissistic Lee Young Joon, the vice president of a family-owned corporation. He is so self-absorbed and full of himself that he seldom pays attention to those around him. Kim Mi So, the capable and tolerant secretary of Lee Young Joon, has stood by him and worked hard for nine years without engaging in any romantic relationships. However, Mi So now wants to arrange her life and focus on herself, so when she decides to quit her job, humorous misunderstandings occur.
This drama has a great blend of romance, comedy, and mystery.
Crash Landing On You


Crash Landing On You will give you the perfect Veer Zaara like vibes, where a South Korean woman ends up falling in love with a North Korean soldier.
According to the series synopsis, the series is an absolute top-secret love story of Yoon Se-ri (Son Ye-jin) a South Korean successful entrepreneur and chaebol heiress who made an emergency landing in North Korea because of a paragliding accident, and Ri Jeong-hyeok (Hyun Bin), a North Korean special officer who falls in love with her and who is hiding and protecting her.
Our Beloved Summer




Our Beloved Summer is a coming-of-age romantic comedy about Choi Ung (Choi Woo-shik) and Kook Yeon-soo (Kim Da-mi), ex-lovers who split up with the promise to never meet again. As luck would have it, the documentary they filmed in high school 10 years ago went viral, and their producer friend, Kim Ji-ung (Kim Sung-cheol), forces them to face the cameras together once more.
The show explores their nuanced emotions and growth. This drama depicts the experience of falling in love. It conveys a story about attraction, memory, and a dream. The romance shines through many subtle, unnoticed gestures.
Something In the Rain


Jin-Ah (Son Ye-jin), who is a businesswoman in her 30s, hasn't had any luck with her love life yet. But when her best friend's younger brother, Seo Joon-hee (Jung Hae-in), comes back from abroad, she is baffled by how mature he has become and how she starts developing feelings for him.
The series explores the connection of two people as they grow from being "just acquaintances" to "a genuine couple."
See Also: Here's a Bollywood playlist fit for your Valentine's day celebrations