Rap it up: In conversation with Shah Rule and DEvil
Rap it up: In conversation with Shah Rule and D'Evil

| February 9, 2023, 19:11 IST
News
Follow on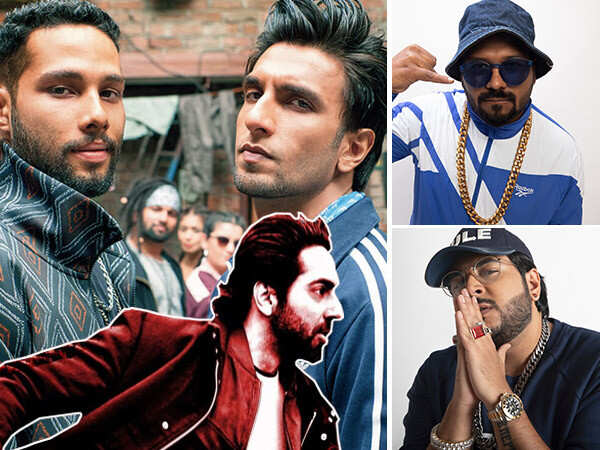 Rappers from every corner of the world have today found a place for themselves in the Hindi film industry and grown to become household names for the Gen-Z crowd out there. Shah Rule and D'Evil belong to that milieu who are proud to represent English rap music from homegrown rappers hailing from India. Some of us might remember Shah Rule who had a crazy musical combat against Ranveer Singh's character Murad in Gully Boy. Their latest one – Asli Action Chalu from Ayushmann Khurrana's An Action Hero has gained massive popularity ever since its release. The song played a pivotal role in emoting the vibe needed in the high-octane action sequences and the thrilling plot of the film. In an exclusive conversation with Filmfare, the duo spoke candidly about how the opportunity came knocking at their doorstep, their inspiration when it comes to the hip-hop music genre, and what's next in Bollywood for them. Excerpts….
What was the prep like for Asli Action Chalu?

D'Evil: I was approached by Parag Chhabra. He actually got in touch with us and he gave us an instrumental, that's how we say it in hip hop, that we have like a beat from the music producer. So he came to us with a beat where he wanted us to do the English and Hindi parts. So yeah, with the Hindi part, he was sure that he wanted me to come and record. So I wrote a little bit on that part also. He helped me to understand the situation of the film a little better. For example, the song is coming during the part where Ayushmann is in a scared mind frame, like trying to run away. the first lyrics that I wrote to Anirudh, they were sounding very generic, the director of the film. So he asked me to come and watch the film also. So I went and I saw the film when he told me that this song is going to be in two different situations with two different lyrics. So after I wrote the lyrics, the Hindi lyrics for the first part, that's when Parag said that we want to get somebody for the English part. Then we got Shah rule on board for the English part of the song because he's like also the sequences are going to be in the UK and everything. So he wanted a very Western vibe as well and some English lyrics.
What was Ayushmann's take to your creation?
Shah Rule: I think they have given us a lot of freedom. Like when I was brought on board, they were already there and they showed us that specific sequence of the film and we got to see exactly what they wanted. And every time we sent drafts to the director, there was not much to change from his side. It was a very positive response. And when I did meet Ayushmann at the premiere, he had great things to say. He loved the theme song.


Speaking of inspiration, who is it when it comes to hip-hop?

Shah Rule: I think for me, I've always looked towards people who give a lot of melodies and who have been notorious for their hooks, their chorus, and their hook lines. So someone like 50 Cent, I've been inspired by since the beginning. He was one of the first big names that you know that really caught my eye. And of course, Eminem, just for being a storyteller, being someone who played a lot with flows and just imagery in general, there are tons I can name, but definitely in terms of someone who catches people's ears by their hooks is 50 cent for sure.


D'Evil: For me, basically, the first introduction to a rap song, not hip hop as a culture, but to rap was, for me, Baba Sehgal. Because we were young kids and I grew up in the '90s in Mumbai, and Baba Sehgal, it was not basically a rap song. He had made a parody song of Vanilla Ice's song called Ice Ice Baby and Baba Sehgal made it Thanda Thanda Paani, and those were the kind of songs we grew up to. That's when Baba Segal was rapping like how Vanilla Ice would rap in a song. So that was the first time I heard a rap rap. But what actually got me into starting what got me into being an artist, a hip hop artist or a rapper was Eminem. Eminem was someone who reached as a representative of hip hop and rap in India, which brought a huge wave of hip hop lovers, hip hop listeners, and also rappers.
Shah, you also performed a rap battle sequence with Ranveer in Gully Boy. Did opportunities change for you post that?

Shah Rule: I think it changed hip-hop for the entire scene. Mass India was definitely now introduced and kind of in a way consigned by Bollywood, which is the number one platform in India. And I think it did great things for the scene because it allowed a lot of opportunities for the existing rappers and for new rappers. So it brought on waves of so many waves of different rappers. So I think it was a great experience for all of us because it definitely brought the scene together. And, yeah, it gave us a platform and it let India know, even brand-wise, corporate-wise, that hip hop in India is growing and money, now is the time to invest in us, which has definitely happened, and it needs to keep growing.


Ranveer himself is also quite good at rapping, right?

Shah Rule: Yeah, absolutely. So basically, Ranveer before he met all of us, he had all of our verses by heart. He knew all of our songs by heart. And when he met us for the first time, that's his thing. Like, whenever he meets you, he will start rapping your song to you. That's his way of appreciating that.
One thing I see common in your career graph is all these films that you have worked in, be it Gully Boy, be it Toofan, and now Action Hero, all these actors are themselves a lot into music. How has that enriched your experience?

D'evil: Yes, absolutely. Right now they have started to realise that hip-hop is something that goes really well with film music as a background score or as a meaningful song. And that's only because Gully Boy started putting that trend in the filmmaking process. It's just not only the actors as well as the directors, like the directors. Like I grew up watching Resh Om Prakash Mehra or Zoya Akhtar, they are the ones who are accepting this particular genre and they're accepting our community and they are helping us grow as well, so that's really commendable. We are really thankful and grateful for that.
You both have worked with each other on multiple projects now. What is the one thing that you'll enjoy the most when it comes to collaborating?

Shah Rule: I think we always have a good time. We always keep it light-hearted and fun. We both have been doing this for a long time. But when it's a movie, it is a little bit more exciting than a music video because now we're narrating something that's going to go and travel the world on different levels. People are going to be hearing it and watching it. So it's giving them this kind of multi-dimensional experience. I really enjoyed a Bollywood movie after a long time. I thought in terms of what they did with the script and introducing comedy with Thriller and action was beautiful. And I think Ayushmann is an incredible actor.
D'Evil: As an artist working with Shah Rule, I have learned a lot of things. There was a time whenever I collaborated with Shah Rule or if I'm doing a song with him, he always made sure that he's there. He's outside the booth recording me when I'm doing my voice, and he suggests things like try this voice, try that always really worked well for me.
Do you think you'll be exploring more Bollywood projects together?

D'Evil: Anytime, whoever comes to us. We just need a really good brief and we just need a reason to make music. And we just want to work with different producers, and music directors in Bollywood because there are so many that we have looked up to. As a kid, I've looked up to so many of them. I've got a chance to work with Shankar Ehsaan Loy for Toofan, Amit Trivedi and various others, not many. I would love to get a chance to work with more.