Mahima Chaudhry attends Subhash Ghaiâs birthday celebration
Mahima Chaudhry attends Subhash Ghai's birthday celebration
by Filmfare | January 24, 2023, 17:29 IST
News
Follow on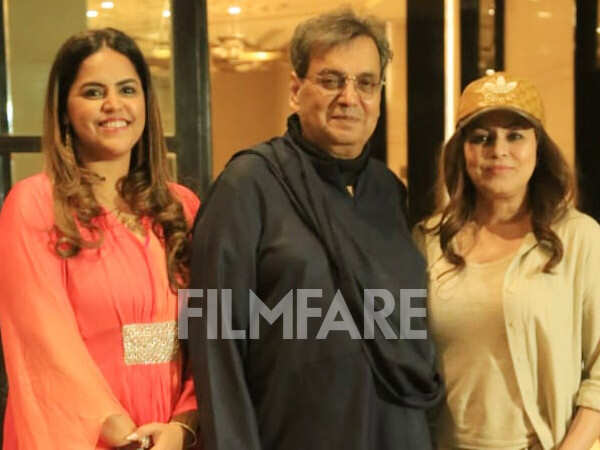 After overcoming cancer, Mahima Chaudhry was in Mumbai on Monday for Subhash Ghai's 78th birthday celebration. The actress looked chic with a matching cap and a beige-coordinated outfit. She delightedly posed for photographers alongside Subhash Ghai. The actress rose to fame in 1997 with Subhash Ghai's Pardes, which featured Shah Rukh Khan as a co-star. Mahima revealed her diagnosis on Instagram last year by reposting a clip that Anupam Kher had first posted.
A lavish birthday celebration was held by Subhash Ghai on Monday night in Mumbai. Aishwarya Rai, who appeared in his film Taal with husband Abhishek Bachchan, Anil Kapoor, Ram Lakhan, Anupam Kher, and other members of his professional network attended the party.
Regarding Mahima Chaudhry's cancer diagnosis, Anupam Kher shared a video last year in which he disclosed that the actress had been diagnosed with breast cancer. He wrote: "Story of Mahima Chaudhry's courage and cancer. I called Mahima Chaudhry a month back from the US to play a very important role in my 525th film, The Signature. Our conversation turned to her discovering that she has breast cancer. What followed is in this candid conversation between us."
Then Mahima reposted the video on her Instagram account with the caption, "Thank you dear Anupam Kher for your love and support."
Mahima Chaudhry has acted in a number of movies, including Daag: The Fire, Deewane, Dhadkan, and Lajja, among others. The last time we saw her was in the 2016 movie Dark Chocolate. She will then appear in the movies Emergency and The Signature.