Hollywood Movies You Canât Miss
Hollywood Movies You Can't Miss
by Kashish Khanna | August 30, 2021, 18:47 IST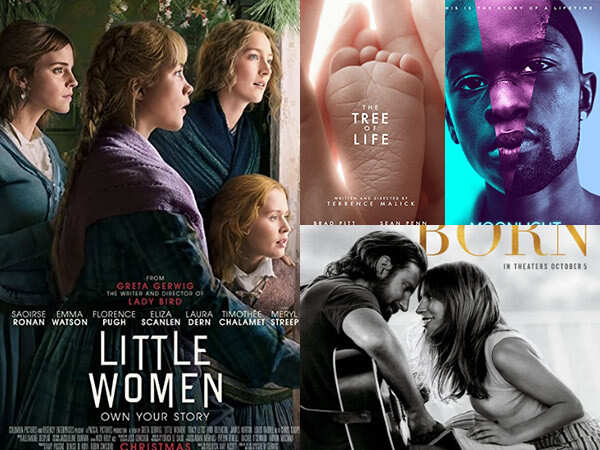 During this lockdown we have seen plenty of films and you might even feel that you are running out of content to pass this time. But trust us when we say this, it's not possible to watch all the films that have been made, and there are some masterpieces that you might have not seen till now. We all know how good Hollywood is at producing films and they definitely have some films that have changed the whole experience of watching films. So get your television remotes handy as we list some must watch Hollywood films. Scroll through.
Little Women (2019)
Directed by Greta Gerwig, starring Saoirse Ronan, Emma Watson, Florence Pugh and Eliza Scanlen, Little Women is an empowering and fresh film, backed with a fantastic cast. The film revolves around the March sisters and how they deal with the ups and downs of womanhood, and make decisions that can affect their future. This film surprised a lot of people and is a powerful film which will always remain a classic. What made this film a hit was the great performance by the cast and their amazing chemistry.
A Star is Born (2018)
A Star is Born, directed by Bradley Cooper, starring Lady Gaga and the director himself was released in 2018. The film revolves around Jackson Maine (Bradley Cooper), a musician who falls in love with a struggling artist Ally (Gaga). Just when Ally decides to give up on her dream, Jack puts her into the spotlight. But as soon as her career takes off their personal relationship takes a turn, as Jack fights his own battle with his alcoholism problem. The audience just didn't fall in love with the story of this film but also the great album the film had. The film was not only critically acclaimed but always won many awards, and Lady Gaga even won the Academy Award for Best Actress.
The Wolf of Wall Street (2013)
If you have interests in stock markets and finance, then this film is the one for you. Starring Leonardo DiCaprio, The Wolf of Wall street revolves around Jordan Belfort, who starts a brokerage firm and quickly grows his company from a staff of 20 people to 250 plus. As the company grows so does their scams, which brings him and his company further to the eyes of the FBI. The film was engaging and is touted as one of the greatest films ever made.
La La Land (2016)
A Ryan Gosling and Emma Stone starrer La La Land is perfect if you're a musical lover. The story revolves around Sebastian (Ryan Gosling) and Mia (Emma Stone) who are drawn to each other by their common desire to do what they love. But as success mounts they are faced to make decisions that begin to rip them apart. La La Land was loved by the audience as it had a modern touch to old school musicals, which is one of the reasons why the film won numerous awards.
The Social Network (2010)
A David Fincher directorial, The Social Network is an adaptation of Ben Mezrich's book The Accidental Billionaires, which revolves around the founding of the Social Media platform Facebook. Starring Jesse Eisenberg, Andrew Garfield and Justin Timberlake the film talks about computer programming genius Mark Zuckerberg, who sits down at his computer and what begins as a dorm room idea soon becomes a global social network and a revolution in communication. But what comes with entrepreneurial success is both personal and legal complications. This film truly shows what good acting skills and direction does to a film.
Spotlight (2016)
Directed by Tom McCarthy, starring Mark Ruffalo, Rachel McAdams, Michael Keaton and Brian d'Arcy James, Spotlight revolves around four reporters who start an investigation on the allegations of child abuse in the Catholic Church. As they dig deep to investigate the truth, they uncover a decade-long cover-up which involves Boston's religious, legal, and government establishment at the highest levels. Spotlight really set some high standards in filmmaking, from the acting, to the screenplay, direction and cinematography everything was just perfect.
The Tree of Life (2011)
Starring Brad Pitt, Sean Penn and Jessica Chastain, directed by Terrence Malick, The Tree of Life is set in the 1950s and revolves around a family in Texas and follows the life of the eldest son Jack (adult Jack played by Sean Penn), on how he experiences life from a child to an adult trying to fix his relationship with his father (Brad Pitt), and how he finds the meaning of life while questioning the existence of faith. This film shows an honest experience of a lost soul, finding the meaning of life, which is exactly what makes it so memorable. If you haven't seen this film then you're missing out on such an incredible film experience.
Silver Linings Playbook (2012)
Starring the charming Brad Pitt and Jennifer Lawrence, Silver Linings Playbook revolves around Pat (Brad Pitt), who is sent to a mental health facility after brutally attacking his wife's lover and being diagnosed with bipolar disorder. After eight months he walks out of the centre and tries to reconcile with his wife. Meanwhile he meets Tiffany (Jennifer Lawrence), a girl with problems of her own. Jack and Tiffany then embark on a love-hate relationship, based on if one person can help the other in achieving individual goals. The chemistry between the leads in the film was pretty good and the storyline will keep you hooked to your screens.
Moonlight (2016)
Moonlight is a coming of age drama, starring Mahershala Ali, Trevante Rhodes and Ashton Sanders the film revolves around Chiron a teenage African-American boy, who's mother is a drug addict and the only guidance Chiron gets is from Juan (Mahershala Ali), a drug dealer, who teaches him to make his own life on his own terms. As he grows older he takes Juan's advice which leaves a lasting impression on him. This film shows how people deal with identity development and learn the path of self discovery. Moonlight is truly everything a movie should be.